REVIEW: Halsey and Ashley finally meet on Manic
On her third studio album, Manic, Halsey, as Ashley Frangipane, sheds the rose-tinted post-apocalyptic landscapes of her previous albums for a pared-down, genre-fluid exploration of the artist behind the Artist.
Halsey lays out her thesis statement right out of the gate on the opening track, "Ashley." Sampled Kate Winslet dialogue from Eternal Sunshine Of The Spotless Mind closes out the track: "Too many guys think I'm a concept, or I complete them, or I'm gonna make them alive. I'm just a fucked up girl who's lookin' for my own piece of mind. Don't assign me yours." This leads right into "clementine," an-anti manic pixie girl requiem, where she admits, "In my world, I'm constantly constantly havin' a breakthrough / Or a breakdown, or a blackout."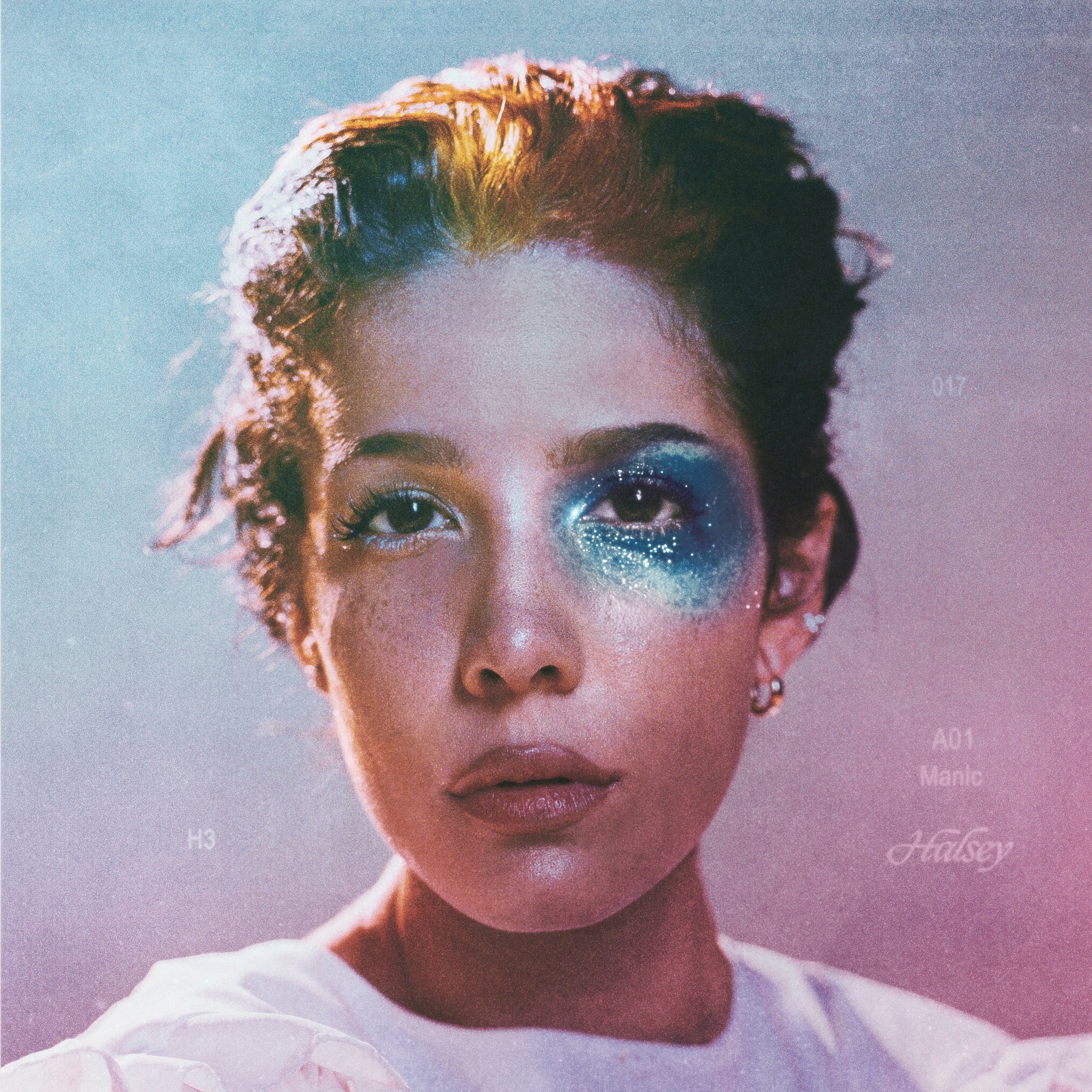 The interludes, which boast appearances by Alanis Morrisette, Dominic Fike, and BTS's SUGA are frustratingly short. They boast a catchiness that would supersede some of the full tacks if not for their briefness. However, as with many of the songs that Halsey has featured on over the years, we're here for her, not them.
Unlike her previous two albums, Manic is unconcerned with churning out radio hits. Though "Graveyard" has been on heavy radio rotation since September, it's a mellower, low-key bop that edges toward her indie-pop roots, very unlike the summer smash hits that have defined Halsey's career.
The most successful artists of the last decade have persisted through adaptation and Halsey is no different. Genre-blending has become the name of the game and "You Should Be Sad" veers unexpectedly into pop-country territory with quotable break-up lines like "You're not half the man you think that you are. And you can't fill the hole inside of you with money, drugs, and cars." "Finally // beautiful stranger" dials down the pop and cranks up the nostalgic acoustic twang, echoes of Lady Gaga's "You and I" blanketing the album's tenth track. On the entire album, "Finally…" may be the only song where Halsey lets herself take a chance, however ambivalently, into love without letting anxiety and paranoia sabotage the moment ("And I hope, beautiful stranger, here you are in my arms / But I think it's finally, finally, finally, finally, finally safe / For me to fall").
Though Halsey promises "the full emotional spectrum," the album leans tonally on the downs of what the word "manic" might imply, "Finally // beautiful stranger" and "Still Learning" best characterizing Manic's mood. The album is loaded with lilting diaric confessions and lamentations with virtually no high-octane moments. The closest the album gets to high are by the trap-tinted "Without Me" and '90s-inspired "3AM."
Consequently, what Manic lacks is bite. Though "3am" has an excitable alt-flavor, "Nightmare," a post-Hopeless Fountain Kingdom radio single that didn't make the final cut, might have had more of the grit and frenzy that Manic wants for. The anthemic, raging, feminist track wouldn't have been out of place lyrically next to "clementine" and "killing boys."
Without a doubt, Manic is Halsey's most honest and stripped down album to date. She must be applauded for her fearlessness, from firing back at ex-boyfriends and bemoaning relationships that have collapsed in the public eye ("Because nobody loves you, they just try to fuck you / Then put you a feature on the B-side") to the addressing the hollowness that even fame can't fill ("I should be living the dream / But I go home and I got no self-esteem"). While the album might not inspire the arena-appropriate theatrics of her past albums, it certainly inspires interest in where Halsey, who hasn't slowed down since her 2015 debut, will steer us next.
Screaming for more? Follow us on Instagram, Tumblr & Twitter!